Kent, Great Britain

Sorry it has taken us so long to reply, our internet access has been down at

school. Here is one of my classes and here they are to introduce our

school....They have all found and listed your addresses on the world map!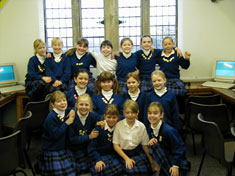 Hi, our names are Vikki and Sasha. We go to Derwent Lodge School, private
school for girls. Vikki and I are both nine, but Vikki is the youngest in our class. We are not
allowed to bring pack-lunches! Ours is the biggest class in the school with 18 pupils.
At our school we have four different houses. They are called: Windermere,
Ulleswater, Grassmere and Coniston, they are all named after lakes. We are
both in Grassmere. At our school we have a variety of different sports they are;
Cross-country, Nettle, Football, Lacrosse and Hockey. The sport that most people Dislike is
Cross-country (running). We have a uniform. The colours that make up this uniform are blue,
black and white. We don' have a choice whether to wear trousers or skirts,
we have to wear skirts. We have quite a few lessons and it would take a long time
to go through them all! Vikki's favourite is drama and Sasha' favourite is English.
Hope to hear from you soon! From Vikki and Sasha!


Hi! Our names are Siobhan and Courtney,
We go to Derwent Lodge, Sommerhill a private school ( where our parents pay).
We are different in many ways , like we have to wear school uniform
(which is pretty boring) and we don't play basket ball. We have three schools in one building,
the first one we go to is Sommerhill which is for girls and boys up to grade 2.
Then if you'e a boy you go to Yardley court, and if you're a girl like us you go to Derwent Lodge.
We are both in grade 5. One fact is that our food is not that tasty.
We have to get to school by 8:30 and school ends at 4:30, Yippee at last;
but a sudden downfall as we have HOMEWORK!!!
Life's not that bad since we don't get the dreaded detentions. We just
have to go to the headmistress called Mrs York .
From your new found pen pals .

Hi!
Our school is a private school (you have pay for your education) Our school
is an old mansion. The schools colours are blue, black and white.
The name of our school is The Schools at Somerhill it is split into three
groups the Pre-prep, (pp) Yardley Court (YC) and Derwent Lodge (DL). We are
in DL (the girls' school). We play netball, hockey, football and
cross-country. School starts at 8:30 and we finish at 4:30 but if you want
to stay and finish our homework (that is called prep) it is 5:15.
From Lucy and Portia

Hi, we live in Kent the school that we go to is in
Tonbridge. At the school we go to our parents have to pay. The subjects that
we do are English, Maths, History, French, Drama, Geography, Swimming,
Project, I.C.T, D.T, Science, R.E, Sport, P.S, P.H.S.E, Gym and Music.
Holly and Natasha
Holly: I am 9 years old and I live in Tunbridge Wells. My hobbies are:
Swimming, Tennis, Roller blading, Homework, Trampolining, Dancing,
Watching T.V, Sleepovers
Natasha: I am 9 years old and I live in Tunbridge Wells. My hobbies are :
Swimming, Tennis, Dancing, Cycling, Reading.

Hello! Our school is called Derwent Lodge; it is in a group of schools called
Somerhill. It is split up into three sections (schools) called Yardley
Court, Derwent Lodge and Somerhill Pre Prep.
Yardley Court is only for boys, Derwent Lodge is for girls and the Pre Prep
is mixed boys and girls from 3 to 7.
In Derwent Lodge we start school at 9.05am and finish at quarter to 4 in
year 3 and 4, in year 5 and year 6 we finish at 4 thirty.
We do sport for three periods a week, in the winter we do netball and hockey
and cross-country, in the summer we do athletics. A lot of English and Maths
we also do a lot of Science and Homework. We have different teachers for
different subjects.
We have uniform and houses, which are called Windermere, Grassmere,
Ullswater and Coniston. Once year we play inter house netball.
In the year we all get a chance to be form captain, where we do jobs for the
teacher and you get a badge. When you are in year five you get more
responsibility and you get the chance to be break monitor and cloakroom
monitor, with those jobs you also get a badge.

From Hannah Richards and katie Harris.

Hi, our names are Alice and Katy and we go to a Private school
(A school that you have to pay for the education.) Our school is called The Schools at
Somerhill, which has three schools on one site, The Pre Prep (3-7), Derwent
Lodge (7-11) and Yardley Court (7- 14). We go to Derwent Lodge, which is a
Girls school, Yardley Court is a Boys school and the Pre Prep is a mixed school.
We have Geography, History, ICT, DT, English, Maths, Art, R.E, French, Drama,
Games ( Swimming ) Gym, Dance and Science.
We like Drama, Art and ICT.

Hi!
Our names are Alex and Oona we go to a school called Derwent Lodge. At our
school we have a school uniform, it is white blouse or a polo neck and a
blue school jumper which is blue we also have a tarten skirt. Our school
colours our black, white and blue. Every Friday we have a cake sale and each
form has a chance to bake some cakes.
We all are put into houses; the houses are Grassmire, Windermere, Coniston
and Ullswater. Alex is in Ullswater and Oona is in Windermere.
We do cross-country.
Our subjects at school are Dance, Gym, History, Art and PSHE..
Bye for now!!!
By Oona and Alex

Hello, we go to Derwent Lodge School for girls. Our names are Alex &
Catherine. We have a school uniform; we wear a blue v-neck jumper, tartan
skirt, a cream blouse and black tights or socks.
We are in year 5. Everyone is divided into houses; Coniston, Ullswater,
Grassmere and Windermere. We use these houses for competing in games.
The house that gets the most points gets the rose bowl at the end of the year.
The subjects we have at school are English, Maths, History, French, Drama,
Geography, Project, Swimming, Science, R.E, D.T, ICT, Games, Art, PS,
PSHE, HW, Dance, Gym and Music.
___________
Mrs. Zoe Piper <piperzoe@hotmail.com>
postal address:
Derwent Lodge
Somerhill
Tonbridge
TN11 ONJ